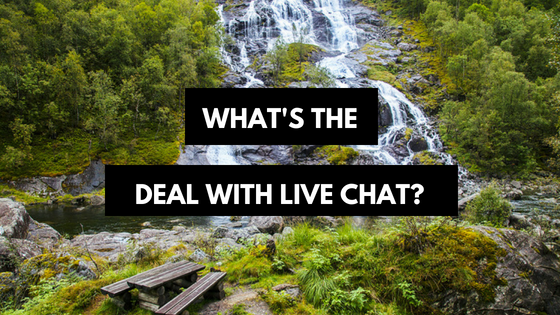 Customer service should be a top priority for your business, and as technology continues to evolve, it's important to understand what your customers expect when it comes to communication and interaction. In recent years, we've learned that customers want detailed information and answers – and they want them fast. That's why having a live chat feature has become increasingly important – it's a fantastic way for customers to connect with you, and for you to provide them with a personal, real-time experience.
Live chat is an extremely comfortable and easy way for consumers and dealers to quickly communicate and problem-solve when used properly. Many companies are adding this feature to their websites so they can answer questions in real-time – and their customers are LOVING it. According to a survey by Invesp, 73% of consumers find live chat to be the most satisfying way of communicating with a business. Phone calls used to be one of the most popular ways for consumers to receive quick answers, and though they are still crucial, it's important for businesses to offer a variety of communication options to their customers.
And live chat doesn't just benefit your customers, the feature can have a substantial impact on your business as well. In fact, according to a survey by Forrester, live chat can lead to a 48% increase in revenue per chat hour and a 40% increase in conversion rate. Another report by Zoho claimed that 43% of companies have a better understanding of their customers after interacting with them in a live chat software system – and knowing your customer base is everything in the business world.
So, what are some additional benefits of live chat? 
Makes communication more personal – In a world of robots and auto-responses, it's rare to get to talk to a person in real-time when you have a question or problem – that's where live chat comes in. While live chat is an online feature, it still lets the consumer talk to a real-life human, and consumers love a personal touch. 
Instant customer satisfaction – Consumers hate waiting – don't we all? Live chat gives you the ability to quickly answer any question a potential buyer might have on the spot. 
Easily accessible for customers – Live chat allows your customers to quickly and easily contact you wherever they might be with just a click of a button. 
Builds customer relationships – If you respond quickly and efficiently, consumers are bound to come back to your site if they have future questions they need answers to. 
Did you know that you have the ability to integrate live chat into your dealer page on Equipment Trader? Our live chat product can be easily added to any package and it will offer you the chance to connect with potential buyers in a whole new way. The chat box will appear on each of your listings, so if consumers have questions about a specific unit, they can ask you in real time. Contact your Equipment Trader representative today or reach out to us at marketing@equipmenttrader.com to learn more about how you can add this key feature to your virtual showroom!