Exclusive Opportunities for John Deere


No other marketplace pairs an extensive audience of in-market buyers with unparalleled market data to elevate the business of John Deere dealers.
The exclusive marketing and sales tools, data, and resources that John Deere dealers get from Equipment Trader and ATV Trader helps them optimize their listings, maximize their online advertising presence, and ultimately move more inventory. We provide access to the most robust audience in the industry, with traffic continuing to soar above pre-pandemic levels.
Unmatched Trader Advantage
Unsurpassed Traffic & Engaged Buyers: Equipment Trader and ATV Trader provide access to the most robust audience in the industry, with over 30M Visits in 2021!
Unparalleled Resources: We provide dealerships with the tools for success, including continuing education, CRM compatibility, affiliate programs, SEO backlinks, transparent data, and social exposure.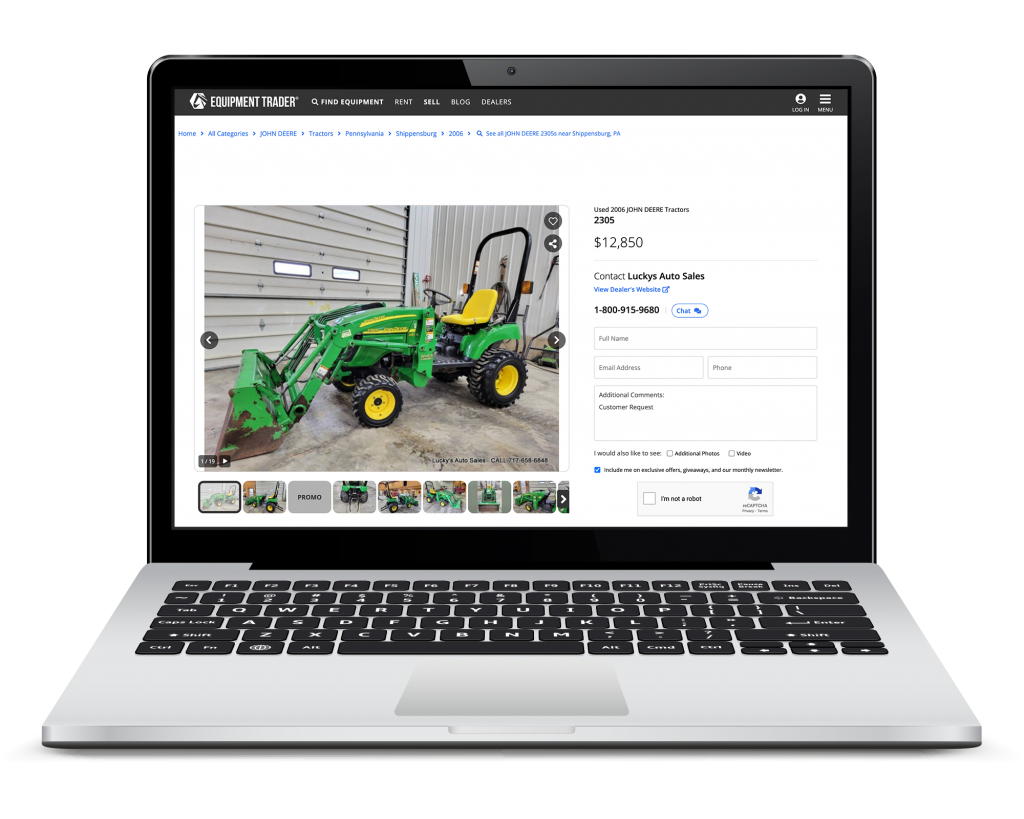 John Deere Agriculture and Lawn & Garden units account for

25%

of the

297M

impressions generated for these categories on Equipment Trader in 2021.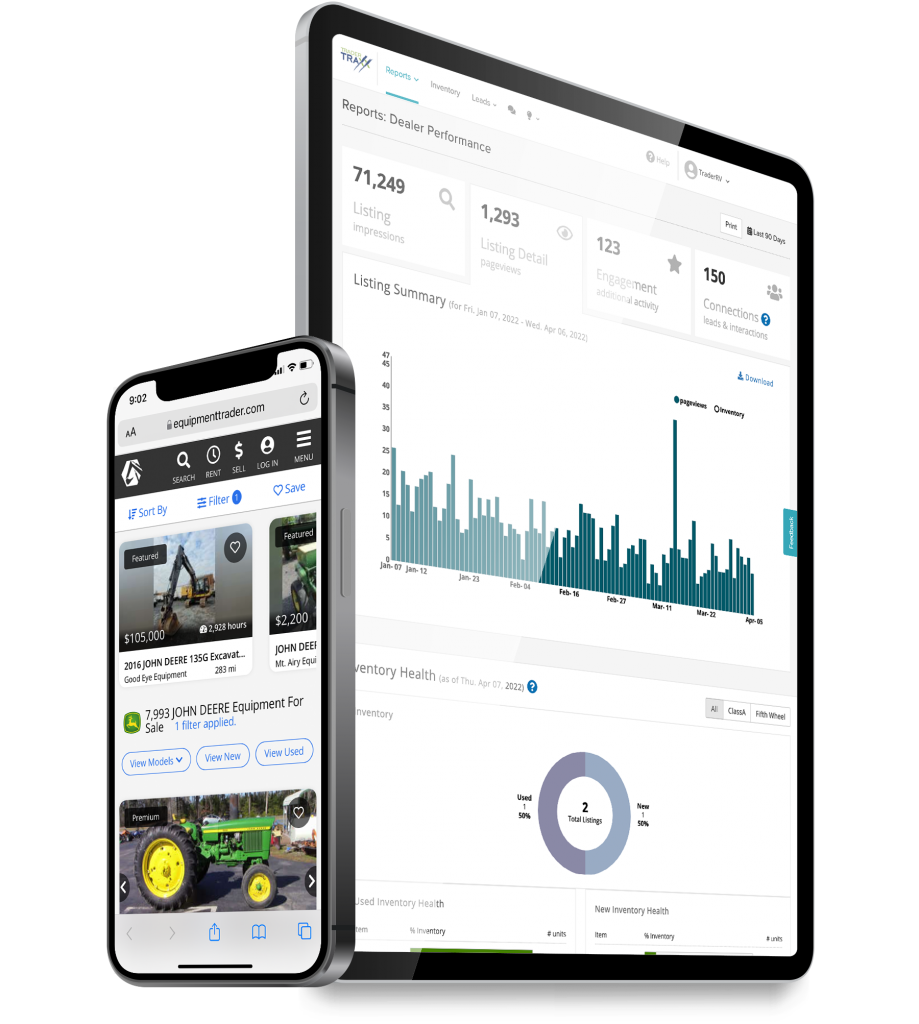 Dealer Tools & Insights that Drive Results
Exclusive Reporting: Our updated Listings Health Report provides dealers with even deeper insights into the quality of their marketplace listings.
Optimize Listings & Lead Conversations: We're constantly updating and improving our listing management tool TraderTraxx, including our Lead Enrichment and Pricing Tools.
John Deere UTVs on ATV Trader far outperform the average UTV with over
5.7X more search result impressions per listing in 2021
7.9X more Ad Detail Page views per listing in 2021
Dealer Tools & Insights that Drive Results
"We Buy/Order Equipment" Button • Restock used inventory by advertising your ability to buy from consumers, and/or lock in customers by advertising your ability to pre-order inventory.
Text and Live Chat • Keep up with buyer communication preferences through our text and live chat options. 
Equipment Trader and ATV Trader provide
a highly motivated in market audience looking for John Deere inventory.
In 2021, John Deere inventory continued to be in demand as referenced below: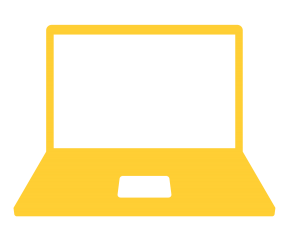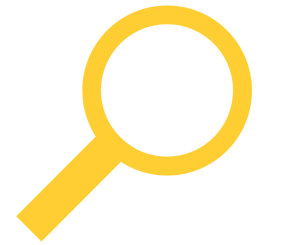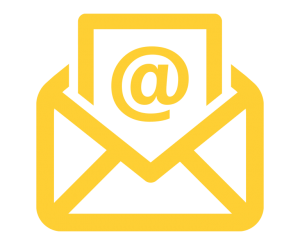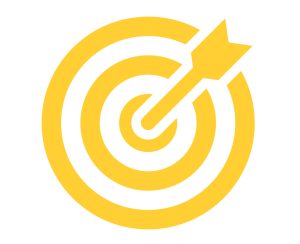 Advertising with Equipment Trader and ATV Trader not only drives exposure to dealer listings, but also unlocks access to powerful tools designed to support dealers in each stage of the selling process.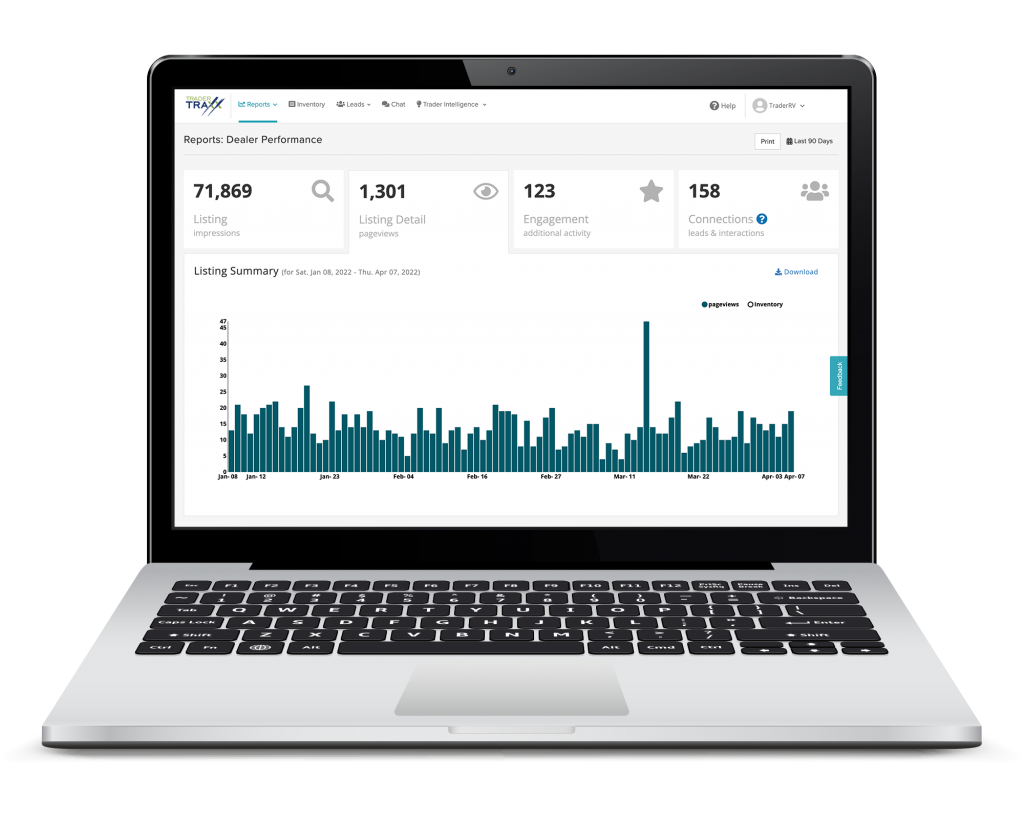 TraderTraxx
Dealers will gain automatic access to TraderTraxx, an all-in-one platform which allows dealers to manage their listings, review detailed performance reporting, and uncover market insights to help them better manage their business.
Within TraderTraxx dealers will find: 
Pricing Analysis Tool

Market Insights 

Inventory Management 

Performance Reporting 

Lead Manager

Lead Enrichment
Lead Enrichment
Dealers will receive real-time notification emails with pre-lead information for individual consumers, also accessible with TraderTraxx, which allows them to personalize buyer conversations for a quicker close.
This information includes:
Time in Market

High and Low Price Range

Total Listings Viewed

Latest Units Viewed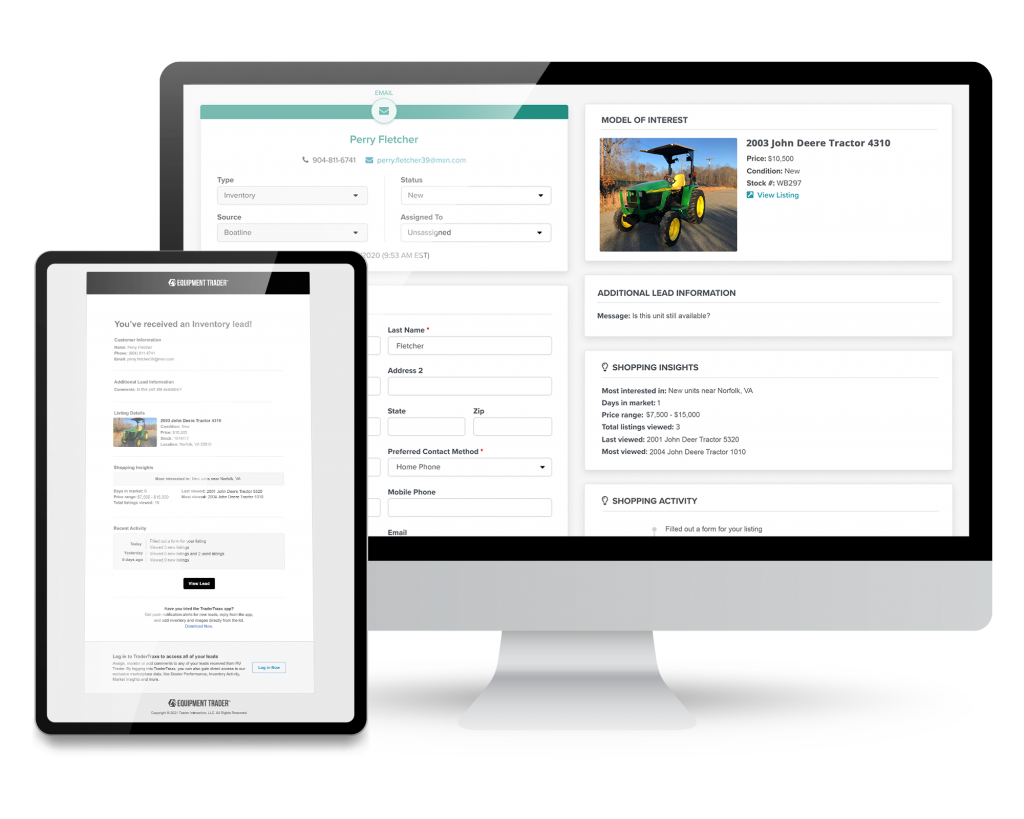 Buyer Connection Opportunities
When listing inventory with Equipment Trader and ATV Trader, we make it easy for dealers to be contacted by buyers based on consumer communication preferences, providing 10+ ways for prospects to interact with the dealership.
New & Similar Inventory Emails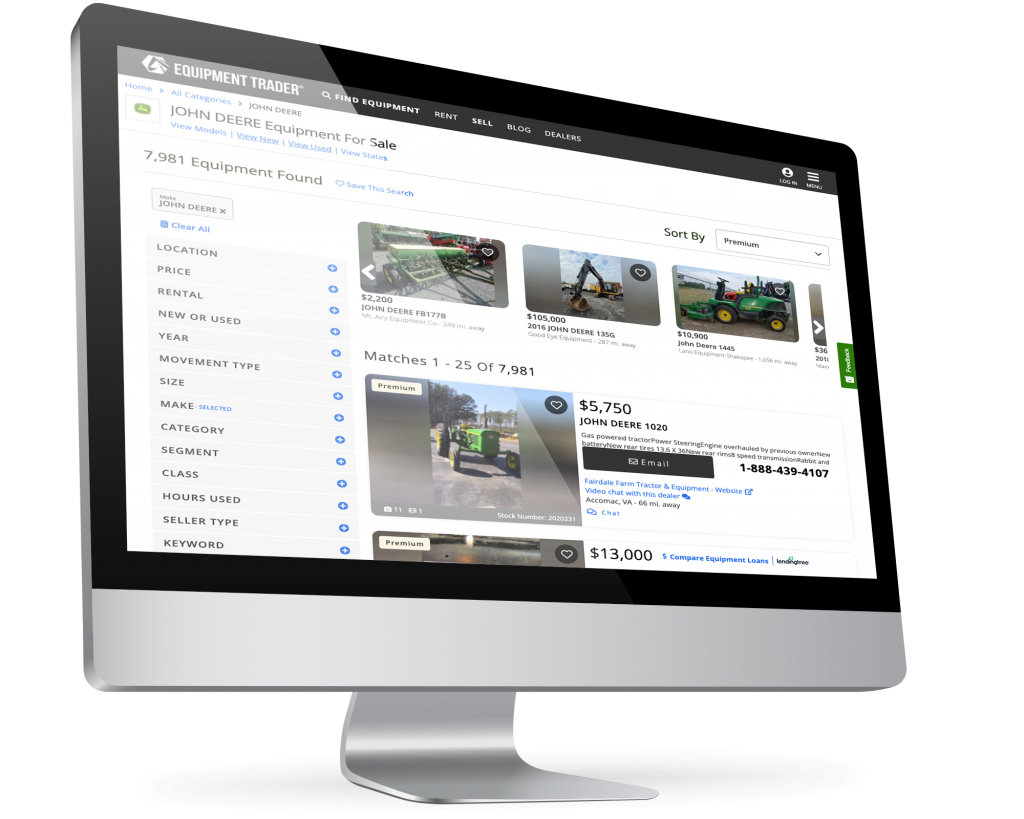 Seamless Listing Management and Enhancements
Our dealer programs would allow John Deere dealers to list all of their inventory across Equipment Trader & ATV Trader, and give them the ability to place extra attention on their units with features such as: 
Premium Ads

Featured Ads

Dynamic/Display Retargeting

Social Retargeting
Premium Ads are prominent listings with "premium" indicators and rotating photos embedded at the top of search results when consumers browse for inventory. Premium Ads place a dealer's listings above the competition, increasing exposure and encouraging engagement.
In addition to programs for John Deere dealers, Equipment Trader and ATV Trader offer multiple opportunities for John Deere at a corporate level to promote the brand to our in-market audience of engaged buyers.
Custom Email Marketing Campaigns
Email campaign sent nationwide to over 50,000 in market equipment buyers and 170,000 in-market ATV buyers

All content within the email will be John Deere branded

Great opportunity to promote new products, promotions, brand value stories, and point links within the email to the landing pages of your choice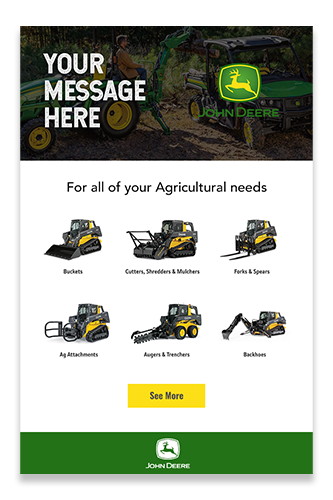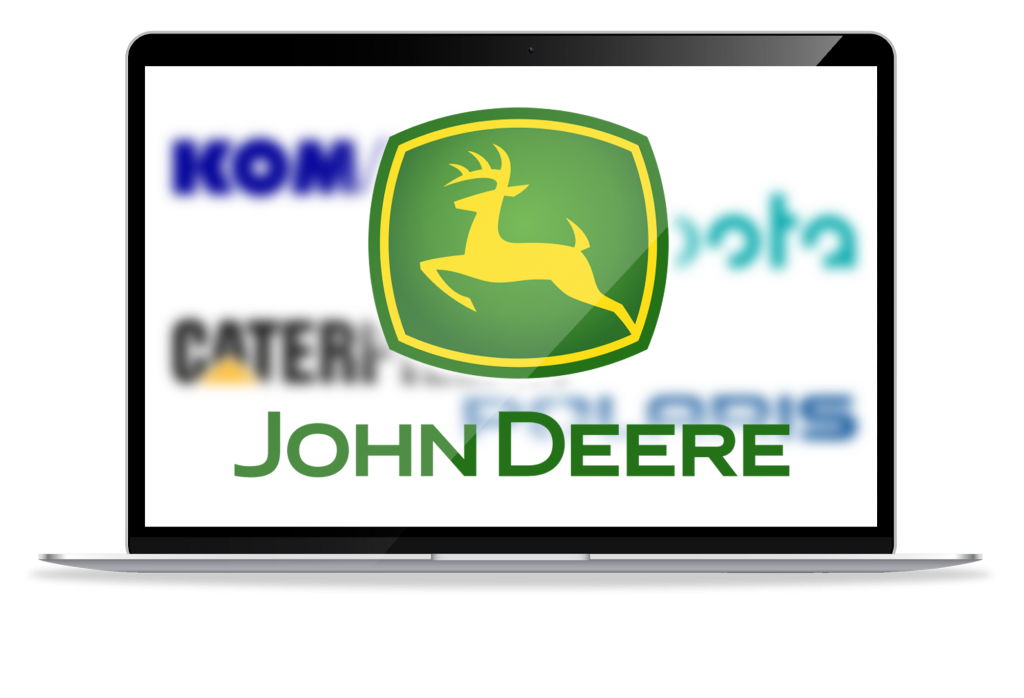 Conquest Campaigns
In addition to being able to target audiences who specifically searched for John Deere inventory, we can also conquest competitor searches and display relevant John Deere content, ensuring that John Deere remains top of mind! These conquesting campaigns include: 
On-site banner ads

Display Retargeting

Social Retargeting
OEM Spotlight Pages
Strengthen your presence on Equipment Trader and ATV Trader and increase the visibility of the John Deere brand and product line with a dedicated OEM Spotlight page – exclusively featuring John Deere models, model breakdowns, and additional OEM information. Use this as a landing page for your conquesting campaigns to educate buyers on why John Deere is better than the rest.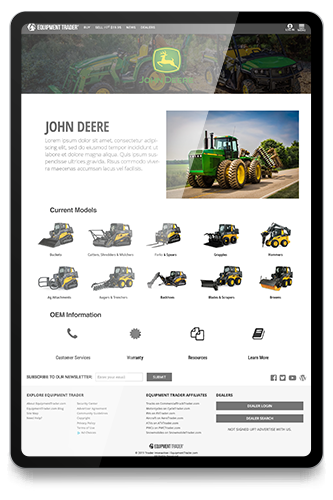 We are ready and excited to partner with you on custom-built dealer and corporate programs designed to drive success for John Deere. Contact us today to get started.
For more information, reach out
to your Sales Rep directly or Contact Us