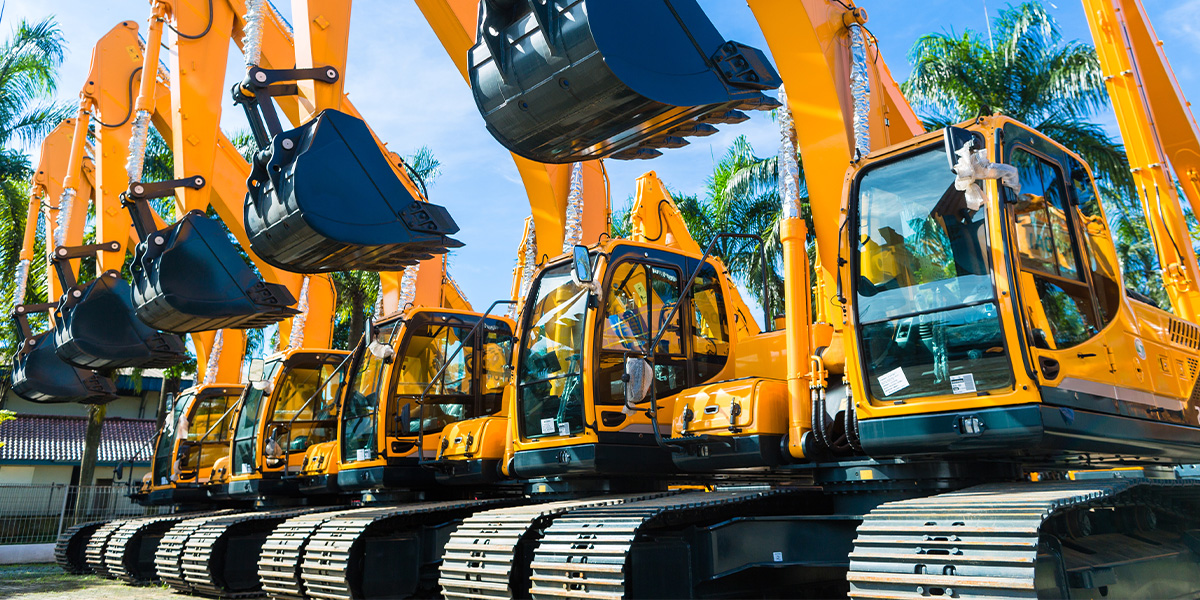 When it's time to create inventory listings for heavy equipment, be sure to take pictures of the machinery to include in your listings. Photos are an important part of selling heavy equipment since images can catch shoppers' attention and convince them to make a purchase. On Equipment Trader, listings with pictures generate 2.5X higher search result impressions, 4X higher click-through rates, and 9.9X higher equipment detail page-views than listings without photos.
Here are our 10 tips for taking equipment pictures for your inventory listings: 
1. Upload Pictures of the Actual Equipment
When building a listing, it can be tempting to add professional stock photos from the OEM website or other online sources. However, especially when purchasing equipment, buyers want to have confidence they are not being scammed by a dealer misrepresenting the condition of the unit. Taking real, detailed pictures of the actual equipment for sale provides that credibility.
2. Use a High Quality Camera
If you're still rocking a flip phone, that's cool, but it's not the right choice to snap photos of your equipment. Use a quality digital camera or smartphone to take pictures. Clear photos give shoppers a better idea of the unit condition, making them more likely to purchase the machinery.
3. Take a lot of Pictures
Images communicate automatically and more powerfully than any written description, so the more pictures you can add, the better you'll connect with buyers. Adding multiple images that focus on various parts of the equipment from a wide range of angles is the best sales pitch you can make.
4. Use Natural Light
Your equipment is going to look best in the natural light of the sun. If you've got a moment with clear skies, it's time to snap some photos. While taking pictures outside, place the machinery in a clear area so that no buildings or trees are casting dark shadows onto the equipment. 
5. Check the Background & Surroundings
When taking pictures of equipment, you want the buyer's focus on the machinery. That's why you want to make sure there are no distractions in the image background. Before snapping a photo, clear the area and then do one last scan before starting the photoshoot.
6. Show Multiple Angles
Buyers want to see lots of photos, but not all from the same angle. Views should include: 
the front

each side

the back

the corners 

the top

the undercarriage

the unit with or without attachments
7. Use Wide Shots for the Body, Close-Ups for Parts
You want to show off the entire unit, as well as its specific parts. Take a few steps back to capture wide shot images that include the entire piece of equipment. Then get up close to provide buyers with detailed pictures of the engine, undercarriage, tracks and/or wheels, attachment joints, VIN/serial number, and any other relevant parts and components.
8. Demonstrate the Equipment in Action
Buyers want to purchase functioning machinery, so use pictures to prove that your equipment is in good working condition and can get the job done. Action photos could include an excavator with its boom extended, a tractor pulling a plow, a loader with its bucket full of dirt, a scissor lift fully raised, a harvester unloading grain into a trailer, or a forklift carrying cargo.
9. Show the Interior and Exterior
The exterior is an obvious subject for photos, but don't forget to also show off the seat and/or cab. After all, the interior is where a buyer is likely to spend much of their time. Snap pictures of the seat, dashboard, steering wheel or controls, pedals, windows, and windshield.
10. Show Any Damage
It's important to be honest and not misrepresent the condition of the equipment you are listing, especially if your dealership sells pre-owned inventory that has been previously used. If there is any scratch, dent, or other damage to the machinery, include that in your written description and in your photos.
Bonus Tip: Add Videos Too!
Pictures are a powerful advertising tool when you're selling your heavy equipment. But videos can be equally persuasive, if not more so! While taking photos, record videos of the unit too, whether it's a simple walkaround or a demonstration video of the equipment in action.
Conclusion: Listings with photos have more buyers looking at them, clicking to view additional information, and contacting dealers to pursue a purchase. If you're ready to snap some photos and sell your heavy equipment, we encourage you to list your machinery on Equipment Trader's nationwide online marketplace.