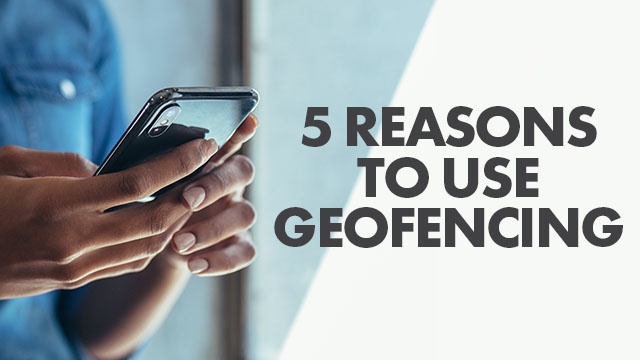 Since the first pop-up and banner ads in the 1990's, digital advertising has evolved and expanded into the highly-targeted and strategic advertising experience that consumers encounter online today. With the overwhelming amount of information presented to buyers each day, you as a dealer have to find ways to strategically position your business in front of buyers at the right place and time.
One effective and strategic way you can do this is with geofencing. Geofencing is a location-based service that allows you to target consumers in a predefined location, a "virtual fence", with actionable ads for your business. Geofencing is the next level in powerful marketing tools to put your brand in front of consumers.
5 Reasons to Use Geofencing for Your Dealership
Reach consumers in real-time.
With a focus on local shoppers within a virtual fence, you can reach the right individuals at the right place and time with targeted messaging. Reaching consumers as they enter a designated barrier increases the likelihood of an unplanned visit to your business.
Increase your brand's awareness.
Putting your brand in front of your audience gets consumers thinking about your business. Your brand at the forefront of their thoughts is a reminder for your audience to choose you over your competitors.
Drive additional engagement.
Connect with your target audience with a customized offer or personalized message, increasing the chances of consumer engagement with your brand.
Build your fence around the competition.
Give your business the competitive advantage of targeting your competitor and bring their prospects to you.
Improve local sales performance using geofencing.
The hyper-local targeting capabilities of geofencing allow you to target consumers within your immediate geographical location. This precision targeting leads to higher converting ads, increasing your local sales.
Geofencing is a powerful advertising tool that allows you to capitalize on an audience of motivated buyers, motivating them to discover your inventory – online or in-person. These are just some of the benefits of using geofencing as part of your marketing strategy. Understanding your local consumer and their needs will allow for a strong target audience. Stay ahead of the competition and put your brand in front with geofencing.
If you'd like to learn more about the Geofencing opportunities offered by Trader Interactive, please contact marketing@traderinteractive.com.